Over 25,000 costumes available for hire
To help raise funds to stage our performances, we hire all of our 25,000+ costumes, props and scenery to other groups and schools nationally at very competitive rates. These include the full sets of costumes for:
For full information on our costumes for hire, please visit the following page:
We have a large selection of costumes spanning Medieval to present day, with extensive Medieval, Victorian and Edwardian, Regency, Tudor-Stuart, 1920s, 1930s, 1940s, 1950s, 1960s, 1970s and 1980s collections.
Unfortunately, as we are manned by volunteers, we are unable to hire individual costumes.
Please contact us now if you are interested in hiring costumes or would like more information.
Scenery and props available for hire
In addition to costumes, we hire the full scenery and props for:
Oliver!
Sister Act
Les Misérables
We Will Rock You
Hairspray
Grease
including the graphics package for We Will Rock You.
We also can provide a selection of scenery and props for:
For more information about our scenery hire, view our dedicated page: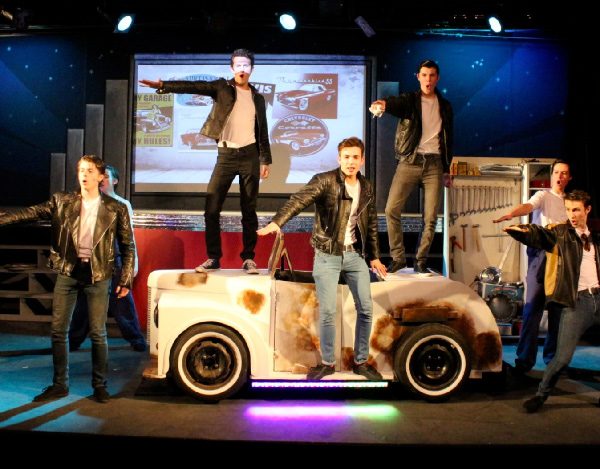 These include the iconic Grease car and We Will Rock You Campavan. For more details of the Grease car for hire, please click on the following link:
PDF Hiring Information for the Grease Car
Contact us for more information
Please contact us if you are interested in hiring costumes, scenery or props or would like more information.
Costume and Set Hire Terms and Conditions
All hires are subject to a deposit agreed between Spotlight Productions and the hirer. This will vary dependent on the total hire fee. This deposit is fully refundable upon return of hire items with no loss and damage.
The group also reserves the right to charge for cancellation and cancellation fees are as below:
Any cancellation where a deposit has been paid will result in the loss of this deposit.
Any cancellation within 4 weeks of the hire date will result in Spotlight Productions charging the total agreed hire fee plus any agreed transport costs.
Pages you may be interested in:
Costume Hire for Musicals  |  Scenery Hire for Musicals  |  News |  Shows  |  About Us